TOP VIDA
MATERIAL
Tube Principal.
Plugin Almathera
Plugin Andromeda.
Efeitos de Psp
EXECUÇÃO
1* Abra uma imagem 1000X700 Transparente.
2* Com duas cores do Tube forme um Gradient Radial/ Angle 1/ Repeats 10/
Center Point:- H93/ V6.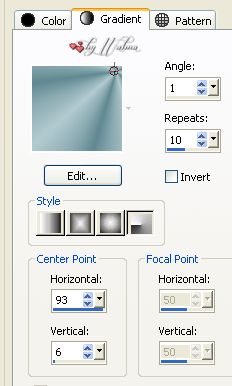 3* Select All/ Copy no Tube/ Past Into Selection/ None.
4* Image/ Seamless Tiling/ Wings Back.
5* Plugin Almathera/ A Puddle/ Pond 240/ 20/ 45/ 3/ 30.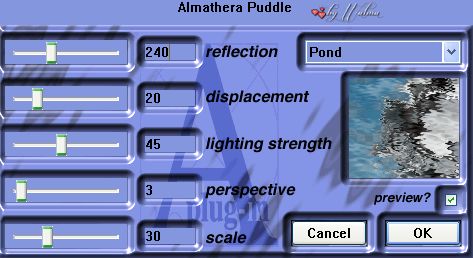 6* Duplicar esta Imagem/ Visibilidade para 50%/ Blend Mode Multiply.
* Merge Down.
7* Gradiente Sunburst/ Repeats 10/ Center Point:-
Horizontal 96/ Vertical 0 (zero) / Link Center Marcado.
8*Nova Layer / preencha com o Gradient/ Arrange Send To Bottom.
9* Em Raster 1 Effects/ Geometric/ Perpective-Vertical/ Avacado 2vezes.
10* Distortion/ Curlicues/ Seven by six weak 7/ 6/ 90/ 10
Symmetric e Clock Wise desmarcado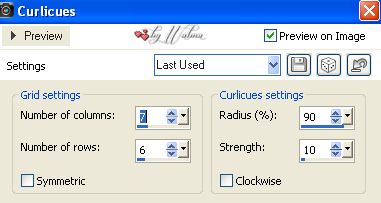 11* Blend Mode Exclusion.
12* Em Raster2 visibilidade para 20%/ Merge Down.
13* Plugin Andromeda/ Star nas configurações do print.
Nos itens Red/ Green/ Blue devem ser modificados harmonizando com a cor predominante.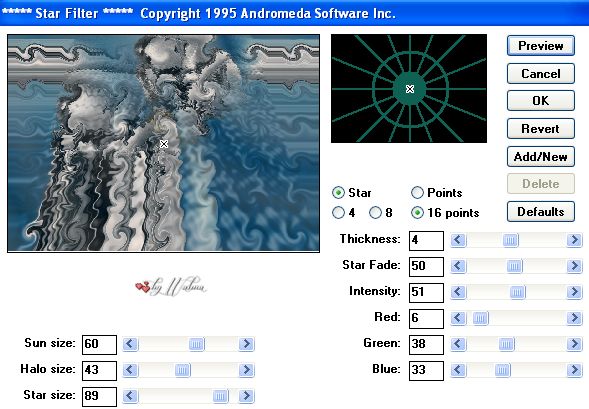 14* Effects/User Defined Filter/ Emboss 3
15* Copy no Tube/ Past As New Layer/ Resize se necessário/ Drop a gosto /sharpen
16* Nova Layer/ Arrange send to Bottom/ Image Canvas Size 1000X720.
17* Preencha com uma das cores do trabalho.
18* Dê um Drop na Raster 2 ou faça um Efeito à gosto
20* Nova Layer assine seu trabalho e formate como Top
Creditos
Tutorial Walma Werneck
Arte e formatação Wal'art
Tube Kikirou Design.